Google just announced the biggest changes to AdWords since, well… AdWords (born 2001 A.D.).
Remember that sunny day a few months ago when all the ads in the right column of the Google search results pages suddenly up and vanished? Poof!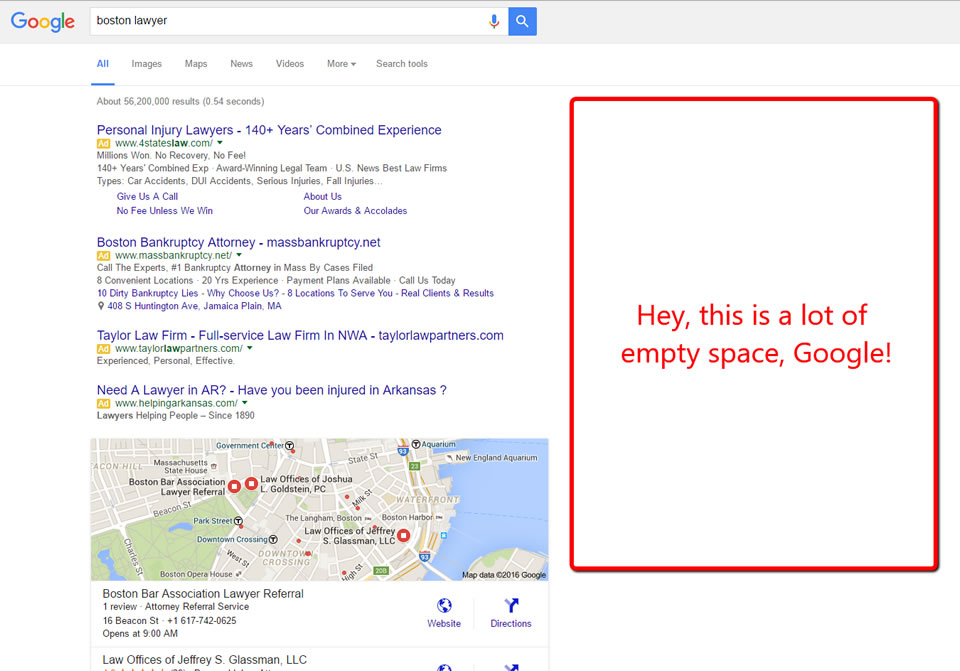 That was just a warm-up stretch.
Last week Google announced the details of the next phase of their "mobile-first" strategy. Over half of Google searches now occur on mobile devices and tablets. So Google is working towards a near-term future of seamless experiences across devices – mobile phones, tablets and desktops.
Removing the right column ads allowed Google to streamline the ad experience between all these devices.  With this change up to 4 ads appear above the free organic search results, and up to 3 ads appear beneath.  It's the same on all devices.
Now Google is ready for the next phase.  Are you?
Here are the biggest looming changes. I'll count them down from those I see as the least important to the most important for my AdWords clients.
4) New Search Ads in Google Maps
Do you run international, national or other broad-geography AdWords campaigns? Then this feature won't mean much to you.
But if you operate a "brick and mortar" business, where customers come to your physical business location, this is huge.
Just get a Google My Business listing, enable an AdWords location extension, and take care of a few more housekeeping items. Then your Search text ads will be eligible to show on Google Maps when users do a local search (e.g., "Boston lawyer", "limo service near me").
Google Maps ads may also feature brand experiences, like your logo and special offers, directly on the surface of the map.
This gives you fantastic new ad visibility. And since local searches now account for 1/3 of all mobile searches, this one is a no-brainer for local businesses.
3) New Bid Adjustments for All Device Types
In the early days of AdWords you could (and should) create entirely separate campaigns just for mobile devices. Mobile volume was small, and mobile visitors to your website behaved differently. You needed more control to bid appropriately and create more appropriate ads.
But this standard approach didn't fit in with Google's vision of a streamlined future for all devices.
So a few years ago they made a rather unpopular change, removing the ability to create mobile-only campaigns. Instead they provided the option to add a "mobile bid modifier" (e.g., -30%). This modified the mobile bids based on the default bids for desktop and tablets (which you could not separate at all).
You could still disable all mobile traffic if you wanted to by setting a -100% mobile bid modifier. And many advertisers did so, especially for websites that weren't yet mobile-friendly. But you couldn't create a campaign that targeted only mobile devices.
This new change is a huge improvement. Now you will be able to set any one device as your "anchor". You can then choose from a wider range of bid modifiers (from -100% to +900%) for each of the other two devices.
This is fantastic because I often see performance differ wildly between device types. And it differs in different ways for different clients.
This change will also let you create individual campaigns focused on single devices if you want to. Just set the other two device bid modifiers to -100%. But, honestly, I wouldn't recommend that approach any longer. That doubles or triples the campaign management effort for little gain. You'd be better served to make your website mobile-friendly and streamline your website experience across devices. Then use these bid modifiers for fine-tuning.
Not sure if your website is mobile friendly? Use Google's Mobile-Friendly Test to find out.
2) New Responsive Display Ads for Display Campaigns
Google is greatly simplifying the creation of ads for the Display network. These are text and image ads that appear on 3rd party websites, not on the Google search results page.
In the past you had to go to great lengths to create image ads that looked good for all aspect ratios. Now you'll just need to provide a headline, description and image. Then Google's magic will responsively assemble ads that look great in all placements on all devices.
In certain cases the ads will also match the look & feel of the page on which they're displayed (known as "native advertising"). This makes visitors more likely to click on them.
All in all this sure sounds good for display ads. But seeing is believing. I really want to see for myself how these changes look before giving them the big thumbs up that I hope they deserve.
1) New Expanded Text Ads for Search Campaigns
This is the biggie.
For the types of businesses I work with the Google Search Engine Results Page (SERP) is where most of the action takes place.
Since forever the Google SERP text ads have allowed just a single 25-character headline plus two 35-character description lines.  Half the battle with creating effective ads was squeezing meaningful, eye-catching info into those tiny lines.
This limit always made headlines especially difficult. As marketers we want to craft headlines that allow a business to stand out from the competition. But as AdWords advertisers we know that our ads usually get more clicks and higher quality scores if we cram the keyword into the headline.
That leaves little to no space for differentiation. And this is why you usually see half the ads with nearly identical headlines. Not helpful to anyone!
But now those struggles will finally be put to rest…
The new expanded text ads allow one 80-character description and, most significantly, a whopping two headline rows with 30 characters each.  Here's what the change looks like:

This generous new real estate will allow us to finally unleash the creative potential for differentiated headlines that we've had to keep bottled up inside for so many years. I, for one, can't wait!
What's the Catch?
There's always a catch.
In this case, the free organic search listings get the short end of the stick. They get pushed even further down the page by the expanded text ads. This already happened with the addition of ad extensions (extra rows in ads) and the change from 3 to 4 ads at the top of the page. Now the dominance of ads on the Google Search Results Page is increasing even more, especially for mobile.
What can you do if your business relies on free organic search traffic to bring in customers? Start investing in AdWords ads, too.
You can only fight the Google behemoth for so long. Eventually you need to play their game.
When are all these changes coming?
Google generally rolls out such changes in waves, reaching some advertisers weeks or months before others. Expect to see a massive wave roll through your AdWords account sometime in the next few months.
In the meantime, start re-writing those ads!
Also, read here for 5 tips to grow your business with Google Ads.