Yes, it's true… and tragically common. People make their business website all about their (*gasp*) business! If you need your website to convert brand new visitors into customers, this is a terrible mistake.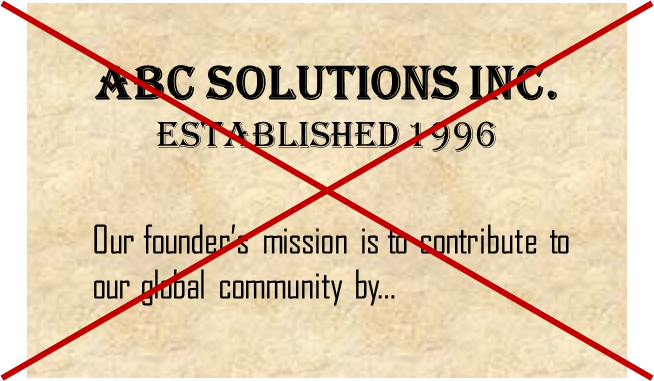 If your business is a well-known brand, then you can ignore this advice. You have many effective marketing approaches available to you.
But most likely you are not well known among the large pool of your ideal customers. In that case there is only one topic for your business website that will effectively convert these prospects into customers — them.
Your business website needs to be about your customers
Period.
This is true even when people are referred to your site, but it's especially true when people come across your site "cold".  A "cold prospect" doesn't know anything about you or your business.  Most visitors who find you through a Google search will be cold prospects.
A cold prospect is not going to spend 10 minutes rummaging through your business website to try to figure out what you can offer them.  There is only one way to get cold prospects to spend more than 5 seconds on your site — by making your site all about them.
How do you do this?
1) Ruthlessly focus your home page
Yes, your home page needs to cover the breadth of your offerings, but you can do so succinctly.  More important is to get first-time visitors immediately hooked.
To hook a new visitor you must immediately answer:
Is this for me?

What can I do here?

Why should I care?
Answer these essential questions in as few words as possible.  A single, to-the-point sentence is often best.  Even better is to answer one or more of these questions with a highly relevant image, which can convey meaning faster than words.
2) Build trust immediately on your home page
Once the 3 essential questions above are satisfactorily answered, the cold prospect will then determine (either consciously or subconsciously) if they should trust you.
There are several ways to quickly convey trust.  The more of these factors you can include on your home page, the better.
A site design well-suited for your target customers (this often, but not always, means a "professional-looking" site)

Testimonials and/or case studies from real, happy customers, ideally including their photo
Mention of professional certifications or awards
Names or logos of well-known customers you've worked with
As seen on… <insert tv program, popular website, magazine, etc.>
Expected navigation items including "About", "Contact", "Privacy Policy", etc.
Note: There is a word for everything on your home page that doesn't accomplish any of the above – distraction.
Chop out all distractions from your page, no matter how cool or cute you think they may be.
A distracted visitor is a confused visitor, and a confused visitor soon becomes an ex-visitor!
Once you've gotten cold prospects to understand that (a) your offering is valuable to them and b) they can trust you, now they will be willing to spend more time on your site and engage with your further.
3) Create Market Segment-Focused Landing pages
A landing page is simply the particular page that a new visitor first sees when coming to your site.  A good landing page will be focused on their exact needs and give them a clear Call to Action.
If you only serve one specific market, then your home page can be (and likely should be) your landing page.  But if you serve multiple segments then you need to create a unique landing page for each segment.  That's the only way to go into enough focused depth to truly reach their urgent needs.
Each customer segment-focused landing page should include most or all of the following key elements:
Speaks in the customer's language
Calls out the customer's pain points and urgent needs
Introduces your offering as a unique and perfect solution for them
Supports your claims with powerful testimonials and case studies
Uses relevant imagery that conveys the problem and/or the solution
Has a single, clear Call to Action to lead to the next level of engagement
Has no distractions
When you weave a story using these elements, you resonate deeply with your target customer segment.
You'll know you've nailed the landing page when your target customers look at it and say, "My God!  This is me!"
Here are some additional tips for improving your landing page.
4) Make even your About page about your customers
Most site visitors will only care about who you are (the business owner) if they will need to be dealing with you directly to use your product or service.  Otherwise, they couldn't care less!
Therefore, writing an About page that gives your company history won't do anything to convert visitors into customers.  Don't miss this opportunity to again make your site be about your target customers.
Think this sounds crazy or impractical?  Twitter figured it out brilliantly.
5) Write blog posts that are actually interesting to your customers
Is your company blog filled with posts about press releases, new product launches, and notes about which conferences you'll be presenting at?  Most company blogs are. This is why no one reads most company blogs.
Only your competitors would want to be so tightly tuned into your company news, and even they would get bored by your blog!
If you want prospective customers to not only read your blog posts, but keep reading them and refer others to them, there's only one way to do it.
Use your expertise to provide unique, genuinely helpful information for your target customer segments in your blog posts.
Write "How To" blogs, "pitfalls to avoid" blogs, "top 10" blogs, "bet you didn't know" blogs, and anything else that your customers would actually appreciate learning from you.
And give away the farm.  Don't hold back your expertise for fear that they won't then need to use your product or service.  The opposite is true.  The more you share, the more they assume you actually know, and the more they'll thank you and respect you for your help.
Conclusion
It's human nature to focus on ourselves, so it's not surprising that we tend to build websites that focus on ourselves.  But in doing so, we turn away droves of potential customers.
Make your business website all about your target customers, and watch your business boom!