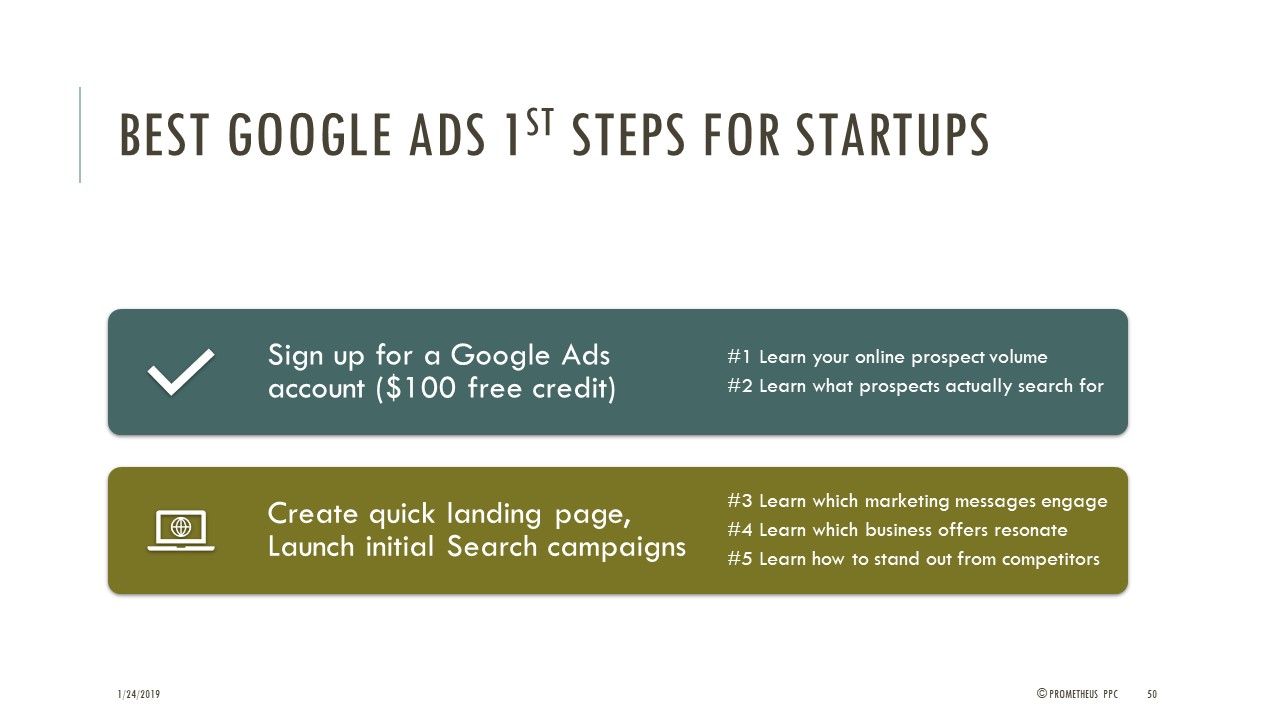 MIT Presentation (part 7 of 8): Best Google Ads First Steps Plus Tools & Resources
Sign up for a free Google account. Use Google's free tools to determine your online prospect volume and what they're actually searching for. Then quickly launch tests to find which messaging & offers work best, and how to stand out from competitors.
Want to see the full presentation instead?  Click here: "5 Ways to Test & Optimize Your Business Model with Google Ads"
This presentation was delivered by Prometheus PPC founder, Andrew Percey, on MIT campus in Cambridge, MA, on January 24, 2019, as part of "The Startup Code 2019" marketing seminar, which he organizes and co-hosts with serial entrepreneur Kenny Goodman.  The attendees were MIT alumni, faculty, grad students and other members of the MIT community.
While this presentation includes specific advice for startups, the advanced strategies & tactics described can be used by any business that is looking to refine or troubleshoot their business model and marketing plan.
Video (part 7 of 8)
PDF slides (part 7 of 8)
Links to all posts in this presentation series, including videos, slides & transcripts:
See all "Startup Code 2019" presentations and resources
See all MIT marketing seminars
Transcript of Presentation (part 7 of 8)
Conclusion: Best First Steps to Grow Your Business with Google Ads, Plus Tools & Resources
So let me talk about the best first steps to take here. This is kind of bringing this presentation together. What you can do right now is go sign up for a Google Ads account. It's free to sign up, and they often have promotions where you can get free credit to start. And without spending any money, you can do the first two things we talked about – you can learn your online prospect volume, and you can learn what people are actually searching for. Those tools are immediately available to you, once you sign up for a free account. Once you start spending money, you actually get an additional level of detail provided by those tools. But you can get a good early first approximation without spending a dime.
Secondly, you can go create a quick landing page and launch some initial search campaigns. And this really doesn't have to take a lot of time. Once you do that, you can do the other three things we talked about, you can find out which of your messages actually get those clicks, which engage, which of your business offers actually resonate and get people to take the next step with you, and how you can stand out from all the other ads in this space.
And two final tips as you do this. Number one, put your best foot forward, and then test around that. So pick your one best offer, your one best audience, your one best landing page, your one best Google Ads campaign, and do everything you can to get that to work. Because if you can't get your best thing to work, again, you might need to reconsider your plan here.
And allow sufficient investment for meaningful conclusions. This gets back to the statistical significance I was talking about before. And I get this question a lot. How much do I have to spend? Especially if I'm just getting started? The answer is going to depend tremendously on your scope. It's hugely different if you're targeting Boston versus the whole country or the whole world, and the range of keywords you are going after. But I'd say, for a variety of cases, if you can take one to three months, and spend $500 to a couple thousand dollars a month, you can very confidently answer these questions and get a good start on your Google Ads marketing.