Each January I deliver marketing seminars at MIT, my alma mater.  The attendees are undergrads, grads, business school students, alumni, teachers and other members of the MIT community.
This year, together with my podcast partner Kenny Goodman, we crafted a very special all-new seminar to address the burning marketing questions that we hear over and over again from new company founders.
These aren't scholarly questions that get theoretically analyzed in MIT textbooks. These are practical nuts and bolts questions about how to get real marketing to really work – questions that can only be answered from experience. I've mentored over 50 MIT startups, and Kenny, who has built and sold 3 startups, has experience in spades.
So we put together a straight-to-the-point strategic + tactical 90-minute seminar: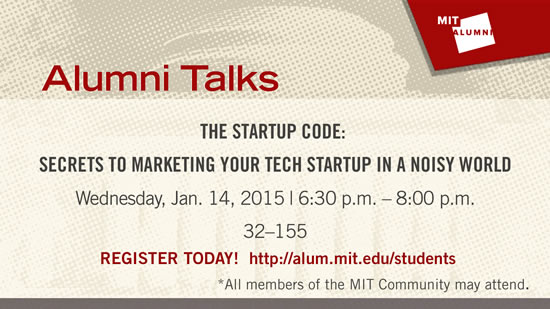 The Startup Code: Secrets To Successfully Marketing Your Tech Startup In A Noisy World
We teed up and knocked down some of the biggest marketing questions that every startup will face:
How do we choose the best initial markets to target?
How do we spy on our competitors and leverage their best practices?
How do we uniquely differentiate our business?
How do we create an effective business presence both online and offline?
How do we craft a website that turns prospects into customers?
How do we generate the right prospect traffic at the right pace?
How do we quickly engender the critical trust required to make high-value sales?
For all of these questions we shared not only the right way to think about them, but the tools, techniques and tricks that let you answer them the right way for your unique business.
We had enthusiastic audiences (one room was bursting at 150% capacity) and insightful Q&A. We recorded one of the seminars, and the video is now available.
So if you'd like to learn what MIT learned about startup marketing…
Want a copy of the slides? send me a note.