You have a brilliant, customer-focused company website (or you soon will).  You have an insightful, passion-infused blog (or you soon will).  And you have an important choice to make (or you soon will):
Should you separate your blog from your website? Or would they be happier together?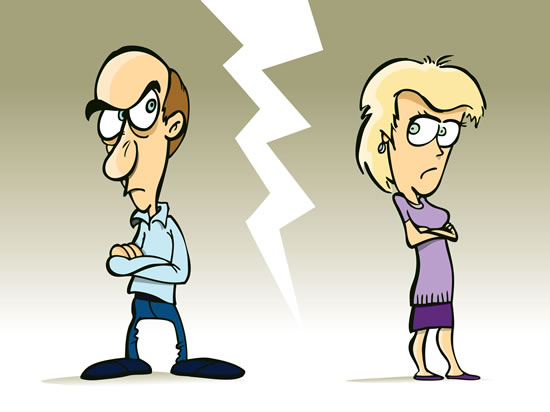 Blog Options
Let's say your main company website is www.abcinc.com.
Integrating your blog with your website means the blog appears either at www.abcinc.com/blog (subfolder) or at blog.abcinc.com (subdomain).
(Of these, the subfolder option is better.)
Keeping your blog separate from your website means hosting it at www.xyzblog.com.
Is it better to keep your blog separate from your company website?
The short answer is…

No… most likely.  Don't separate them.  Here's why.
Advantages of integrating your blog
Integrating your blog brings a number of significant benefits that, for most companies, provide more than enough reason to choose integration.
I. Visitor benefits
A (well-written) blog is a great way for visitors to get to know your company because it showcases your more relateable human side.
Many website visitors today expect to find a company blog on your website and would be disappointed if they don't.
An integrated blog creates a more seamless visitor experience.
II. SEO (Search Engine Optimization) benefits
All backlinks to blog posts will contribute directly to your website's overall SEO strength because those backlinks are pointing to your main domain.  This helps all of your company website pages rank higher in search results.
Simply having more content pages on your site will also help the entire site rank better because Google loves content-rich authority sites.
III. Company benefits
Having a blog on your company website helps position you as a thought leader, not just a provider of services or products.
Visitors who find your blog post will already be on your company website, that much closer to taking whatever conversion action you are targeting (email opt-in, content download, purchase, etc.).
It's easier and cheaper to build and maintain a single website.
It's easier and cheaper to establish and promote a single brand.
Integrated Blog Example
To see a highly effective example of this type of blog, check out www.moz.com, which provides some of my favorite SEO and marketing tools.
The company blogs are featured prominently in the main site navigation.  Visit the blog page and you'll see a ton of well-written, well-organized incredibly helpful blog posts spanning all aspects of internet marketing. Many posts are from guest bloggers.
Rarely do these posts directly promote company products.  Rather, they have served to firmly establish MOZ.com as a thought leader in this space. This leadership attracts readers in droves. It also attracts backlinks, which boosts the overall SEO authority of MOZ.com.
Advantages of keeping a separate blog
With all these integration advantages, why might you instead choose to keep your blog separate?  Here are some justifiable reasons:
If you want a scope that isn't highly relevant to your company's main offerings.
If you want a "tone" that isn't appropriate for your company's main site.
If you want to promote your blog as its own brand.
If you want to promote yourself as a more objective industry expert.
If you might want to someday sell the blog but keep the company website.
If you might want to someday leave or sell the company but keep the blog.
Separated Blog Example
To see a highly effective example of this type of blog, check out www.quicksprout.com, which is written by Neil Patel, one of my favorite bloggers.
Neil founded CrazyEgg.com and KissMetrics.com, and he also runs his own consulting practice. His blog posts often reference these other businesses and help drive traffic to them.
But the primary purpose of his QuickSprout blog has been to establish himself as a renowned industry expert, which he has achieved in spades.
What about SEO?
Note the glaring lack of SEO (Search Engine Optimization) reasons for keeping a separate blog.  This is because if your goal is to boost your main website's SEO authority, the best way to do so is with an integrated blog.
That didn't used to be the case.  In the old days (2+ years ago), you could build any number of separate web sites, point most of their links at your main website, and successfully inflate your main website's SEO authority and Google search rankings.
Not any more.
For obvious reasons, Google doesn't like artificial link building.  It doesn't well serve Google's customers, who want to see the best, most relevant websites, not the websites that SEO "experts" manipulate into the rankings.
And so Google has clamped down in a variety of ways.  Google is much better at recognizing and discounting such website linking schemes, which have different characteristics than natural linking that occurs from true 3rd party sites.  Google also gives much less value for multiple links from the same site.  And Google gives much less value for links from low-value sites.
In other words, getting a single link each from a handful of trusted 3rd party authority sites will be more valuable to your website's SEO strength than getting hundreds or even thousands of links from low-value sites.
Yes, you could work to build quality backlinks to your blog website so that its links, in turn, pass more value to your main website, but you're still using an unnecessary middle man.  If the blog is part of your main website, then those backlinks that it attracts will automatically and more directly help the SEO value of your main website.
What about keyword focus?  Can't a separate blog website achieve better Google rankings and more search traffic because you can optimize everything, including the domain name, for a valuable keyword?
Yes and no.  Exact-match and partial-match domain names still provide some ranking value.  However, you're neglecting to consider the very substantial additional ranking boost your blog posts will receive simply by existing on your main company website rather than on a separate lower-authority blog site.
And your ultimate goal is to have your company website found, not just the blog website, right?
Bottom line:  If your company website is your main focus, any SEO-building efforts will be more effective when your blog is part of your company website.
Is there a middle ground?
Sure.  If you're still undecided, you can compromise by hosting your blog at a separate domain but including a prominent link to your blog from the main navigation of your company website.
This approach provides most of the visitor benefits described above — They can easily find your blog and get to know your company better.  The tradeoff is that you lose all the potential benefits of having a truly separated blog other than the ability to easily detach it from the company website later.
Conclusion
For most companies, having your blog fully integrated into your main website is the best option — for your visitors, for your SEO, and for your leadership positioning.  But there are some special cases where having  a separate blog is the right choice.
Use this analysis to choose the approach that best meets your goals.
Agree or disagree?  Did I miss anything?  Let me know in the comments below.
Also, be sure to read about How to Grow Your Business with Google Ads.
Rating: 4.3 / 5. Votes: 58